Tithing Software for Churches - GivingTools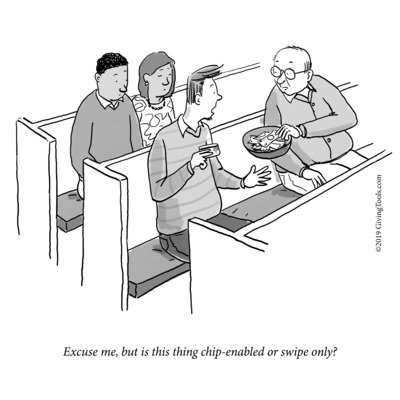 Dear Tuppence,
I used to forget to bring my checkbook to church, but thanks to GivingTools online giving tithing, I set up a recurring weekly pledge payment. It was so easy! I even connected it to my checking account, so the processing fee is just a quarter. AND I even clicked to cover the fee! I'm a real saint. But in church, I am embarrassed to pass the plate without putting a donation in. People are looking at me in not-so-Christian ways. I'm ashamed. Help.
–Mary
Don't fret, Mary! El chihuahua to the rescue!
First off, you are doing great. Online giving is an awesome way for churches to reduce missed pledge payments. No need to remember a check, and the payment gets to church—even if you don't (heavens).
But there's a catch. What do online givers do when the plate is passed? After all, this is a symbolic moment of offering, and passing a plate around the church half-empty might be a bit of a let-down (even if it does enable more, actual giving).
We've pondered this problem here at GivingTools, and we've formulated a solution that will enable givers like you to physically give, while also promoting your church's online giving program. The idea is to create beautiful online giving tokens. Here's how to make and use them.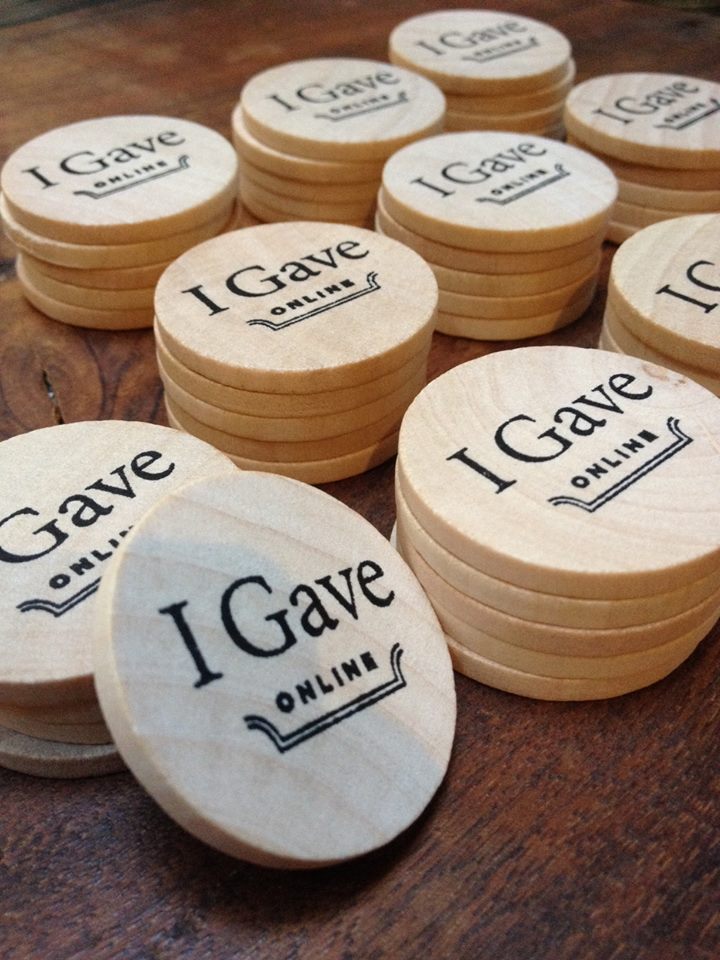 Get the Design
First, download this "I Gave Online" logo design. We created it to fit nicely on a wooden nickel. Click here to download the design as a full-resolution .pdf file.
Get a Stamp
Get a self-inking rubber stamp that uses the design. We've tested out one company that did an excellent job, Rubber Stamp Champ. Here is a link to that company's order page. You want the Ideal 310R Self-Inking Round Stamp, which is a 1-1/4" round stamp. We got ours in black for about $30.
Get the Nickels
Second, get some 1-1/2" "wooden circles" on Amazon (or anyplace…crafts stores often have them). You only need as many as the number of online givers who may be in church at one time. We got ours here.
Stamp Away!
Stamp one or both sides of the nickels. It is actually pretty easy, the ink dries quickly, and the image made by the stamp is crisp and clear. You can use them just like that, or if you are particularly handy, coat them with some varnish for gloss and extra durability.
Now, you have your own online giving tokens!
Basket
Next, get a nice basket to display your tokens. If you wish, reprint that token stamp on a piece of paper and glue it to a piece of cardboard and adhere it to the basket, for a coordinated presentation. (Or go ahead and hand-embroider it, if you have the time, Mary.) Place a basket at each entry to your church.
Communicate
Use that logo again to accompany an announcement of the "I Gave Online" campaign. Drop an announcement (with that logo) into the church bulletin. Put it on posters. Pay a local blimp company to…well, you get the idea. In your copy, instruct online givers to pick a token on their way into church and to drop it in the offering plate. Simple as that. Be sure to also email your existing online givers, so they are absolutely sure to know to look for the baskets.
As you can see, this program allows online givers to give something physical each week. It also is a reminder to non-online-givers that online giving is an option they might wish to consider.
Good luck, Mary. Now, pass that plate with pride!